Our Services
AUTO
Bring your car back to Showroom Condition. DETAILING
BOAT & RV
Whether you are enjoying or selling, it will look it's best. DETAILING
INTERIOR
Upholstery, Carpet, Windows, Cup Holders, Mats, Dash, Tires, Body ... Exceeding your Expectations. DETAILING
Our Services
Welcome!
Eco Auto Care provides Mobile Detailing, Interior and Exterior Car, RV and Boat cleaning, buffing and polishing.
The products we use are environmentally safe and we are fully insured. We specialize in polishing a vehicles paint to perfection, leaving a finish looking like it just came out of the production line!
Joan and Jim Sayer provide quality workmanship with great consideration to detail. A full detail can take on average three to five hours. If an auto is excessively dirty, a full detail can take eight to twelve hours to complete. Please book accordingly.
For your convenience, we provide a FREE shuttle service within a 10 mile radius. Rates available if you need a shuttle farther than 10 miles.
Pricing
Contact Us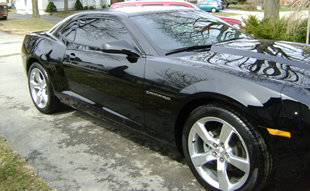 Call us today to book your appointment! Cars, RV's and Boats are exposed to the elements everyday. You will be amazed with the quality of your work. When you pick up your pride and joy, your car or boat will delight you with it's lustrous shine and exceptionally clean interior.
Contact Us